Getting started
When you enrol in a VirtualSpeech course, you'll gain access to both our online portal and VR training. They work together to help you improve your skills in the following way:
Online portal – you'll learn with tutorial videos, role play exercises, case studies, reading material and other resources
VR training – you'll practice what you have learnt in immersive virtual reality environments
Online portal
The online portal houses all the learning material. At certain points throughout the online portal, you'll be guided to practice what you have learnt in specifically designed VR training rooms. When you have signed up to a course and logged in, you'll see a screen similar to below: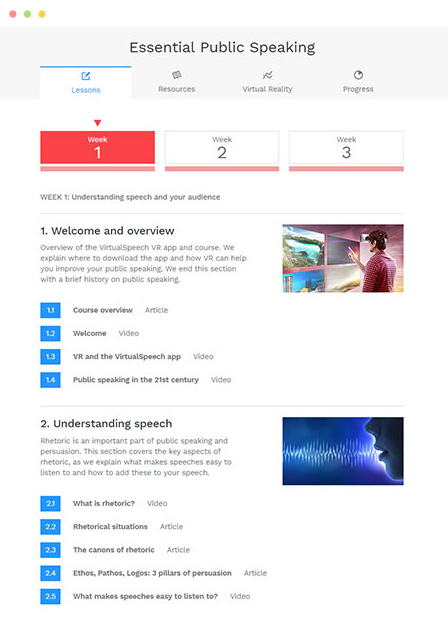 To get started with the course, simply click on a lecture. This will take you to a screen which looks similar to below: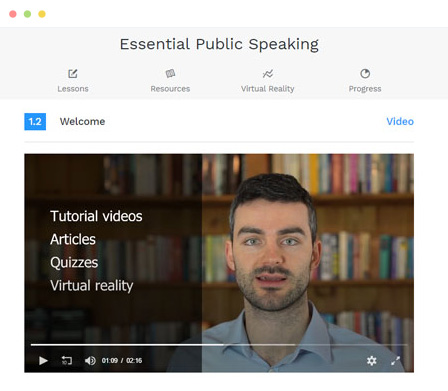 VR training
The VR training is specifically designed for each course to complement the online portal material. Each training scenario is designed to be around 10-15 minutes long and can be repeated as often as you like.
For some of the VR training environments, we created role play scenarios to give context to them.
The VR app setup, features, rooms and training scenarios are discussed in detail in our VR App Guide: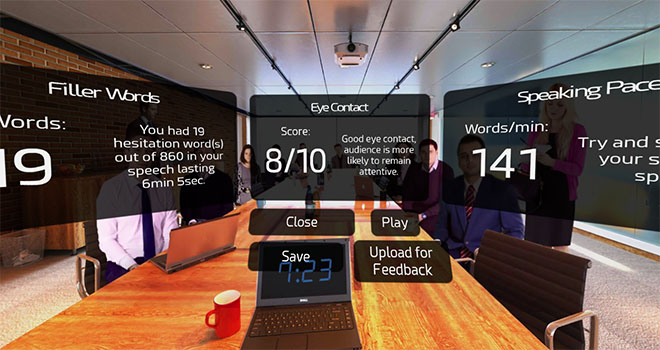 Download the CrisisVR app
In order to experience the VR training, you'll need to download our VR app onto your mobile phone. You can download the VR app for Android (including Gear VR) and iPhone. Visit our product page to find relevant app store links.
VR access code
You'll receive an access code within 8-12 hours of enrolling in the course. Read this section of the app guide to understand how to enter this code into the VirtualSpeech VR app.
VR Headset for the VR training
A VR headset is required for the VR elements of your e-learning course. If you do not already have a headset and you require some assistance with your choice, please take a look at our blog with lots of information on choices and compatibility. Alternatively contact us.
Useful VR app features
Here are some of the popular features within the VR app. These create an immersive learning experience where you can practice and improve various business or communication skills. Learn more about them in our VR App Guide.
Presentation slides – personalise your experience by adding your own presentation into the virtual rooms.
Voice and eye contact analysis – using speech-to-text and tracking technology, the VR app provides instant feedback on your speech.
Realistic environments – develop your presentation skills with our realistic virtual environments and audiences.
Record your speech – save your speech and listen to it later for analysis, better understand areas you need to work on.
Audience distractions – learn how to deal with distractions such as talking, mobile phones ringing and stage lighting.
Mobile ready – our iPhone and Android VR-apps work with the majority of modern phones.
Personalised feedback on speeches – upload your speech to us from within the VR app for detailed feedback.

VirtualSpeech course content
The courses come with a range of useful features and training material to help you learn and practice the topic. Check the individual course page to see which of these features are in that particular course.
1. Access to online course materials
You'll have access to our online portal and all training videos, reading material and content within the portal for that course.
2. Access to VR training
Access our VR app and use the VR training in conjunction with our online learning material. The online material with guide you to use the different VR training scenarios which come with each course.
3. Unique VR features and rooms
Each courses unlock unique VR training scenarios for that particular course. The VR training has been built to supplement your learning and let you practice what you learn in a realistic way.
4. Continually updated course material
Our courses are updated regularly with new tutorial videos, VR content, learning material and other resources for each course. Come back to the course regularly to see additional learning material.
5. Role play exercises in VR
We've created different role play exercises to give context to the VR training scenarios. For example, you'll be given a role play exercise where you need to prepare for a TEDx talk and create 3 presentation slides for it, all within 15 minutes. You can then upload the 3 slides into the VR app and practice in our virtual TEDx room.
6. Real-world situational case studies
We analyse different real-world communication examples to help you learn. For example, we take the best presentation openings and analyse what makes them so great. We'll deep dive on these specific areas for 20-30 minutes so that you can learn what to use in your next presentation.
"CrisisVR provides remote training at the pace and convenience of the student. Students will benefit from being immersed into a crisis scenario and practicing their response."
Tom Garner Co-founder, CrisisVR